It's a new year and Pantone the Color Institute has decided that it's time that we all turn over a new leaf.  As such they have dubbed this year of 2017 the year of 'Greenery'. After 2016's wild ride we can all agree that it's time to step outside and take a deep breath for a fresh start, refresh and renew as nature intended.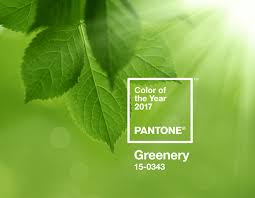 "Greenery bursts forth in 2017 to provide us with the reassurance we yearn for amid a tumultuous social and political environment. Satisfying our growing desire to rejuvenate and revitalize, Greenery symbolizes the reconnection we seek with nature, one another and a larger purpose."

– Leatrice Eiseman, Executive Director of The Pantone Color Institute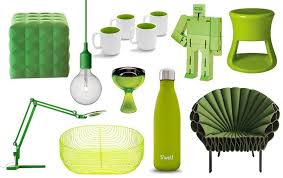 They also say that it is, "A refreshing and revitalizing shade, Greenery is symbolic of new beginnings.
Greenery is a fresh and zesty yellow-green shade that evokes the first days of spring when nature's greens revive, restore and renew. Illustrative of flourishing foliage and the lushness of the great outdoors, the fortifying attributes of Greenery signals consumers to take a deep breath, oxygenate and reinvigorate.
Greenery is nature's neutral. The more submerged people are in modern life, the greater their innate craving to immerse themselves in the physical beauty and inherent unity of the natural world. This shift is reflected by the proliferation of all things expressive of Greenery in daily lives through urban planning, architecture, lifestyle and design choices globally. A constant on the periphery, Greenery is now being pulled to the forefront – it is an omnipresent hue around the world.
A life-affirming shade, Greenery is also emblematic of the pursuit of personal passions and vitality.
What is the PANTONE Color of the Year?
A symbolic color selection; a color snapshot of what we see taking place in our global culture that serves as an expression of a mood and an attitude. "
Other important colors that they see us wearing and designing with that will enhance our lives and pair beautifully the color of the year are; Serenity, Rose Quartz, Treetop, Twilight Purple, Orion Blue, Calypso Coral, and Nimbus Cloud.
To further see their vision of what Greenery means to us watch their video here: Pantone 2017 Video
Photo Credits: Pantone
SUBSCRIBE TO OUR MAILING LIST FOR MORE LUXURY TODAY!
YOU WOULD ALSO ENJOY