You've seen her work on the runways of New York City. Her accessories embellished the creations of designers and are the finishing touch to the models before the flashing lights of the catwalk. New York based Chinese accessories designer Cui Xu, has spent years perfecting her craft and recently began building her personal brand of sophisticated, feminine and unique wardrobe must-haves such as; chokers, handbag, and shoes. We had the opportunity to chat with Xu and explore her journey and her latest collection.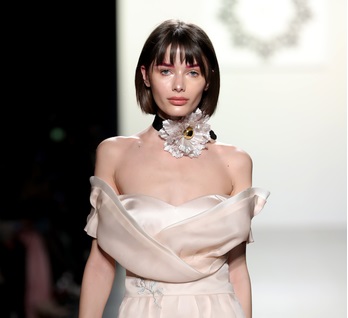 Obviously you're a very creative person, what inspired you to channel your art into fashion and accessories?
As a child, my grandmother used to like to let me help her. I would do some manual things, like paper cutting, embroidery, sewing and so on. Gradually, I found myself very interested in combining and making small accessories, so I was influenced by my family environment at first. Later, I began studying professional drawing; I spent every weekend of the past ten years in art classes. I found myself very creative when expressing my art through painting, especially using colors, and I know how to really give them personality and thought in the picture. After a long time being aware of my talent and how important is it to me I decided to become an accessories designer. The job is simply tailor-made for me.
How long have you been designing?
My professional design career began in my first freshman year in Italy when I first started school seven years ago. My three year undergraduate was in Footwear & Accessories Design at the Polimoda Fashion Institute in Florence, Italy.
Where do you get your inspiration from?
For me, inspiration is divided into a superficial inspiration and a deep inspiration. The superficial inspiration is something that looks beautiful or not beautiful, for example, some attractive patterns or some cultural stories. The deep inspiration is something that must be filtered through my own processing, the output is attached to my own personal thoughts and the nature of a personal declaration of the product and what it means to me. Something deeply inspiring can come from the roar of the morning train, people at the subway station buying tickets, everyday actions. However, there is no good or bad inspiration, it depends entirely on how designers combine their own experience and aesthetic to express themselves.
You have had a lot of great collaborations over the years. What has been your favorite so far?
Yes, I am very excited to collaborate with Lanyu and Calvin Luo. Because our brand was established in 2016, I first got the chance to work with Lanyu in February 2017. I highly recognize the design strength of Ms. Zhao Ge, CEO of Lanyu. It was an amazing experience as she gave me the space to freely create, tailoring the choker and brooches for their show. It was a challenge and a valuable opportunity for me. Since that collaboration I have been more determined to build a sophisticated and premium brand. My confidence has only grown with the support of my family and business partner, Zoe Yuan.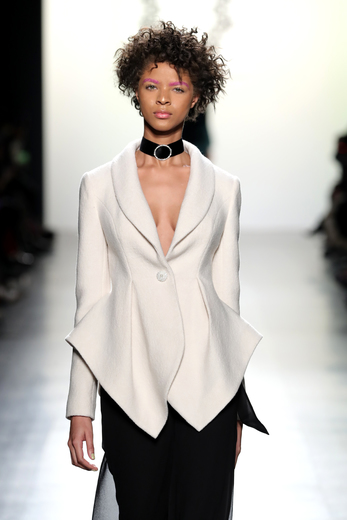 Do you have a dream collaboration with a designer that you haven't worked with yet?
My favorite Belgian designer is Margiela, I really appreciate his attitude towards life and his brand, not only because of the experimental and avant-garde design. There is also the artist Daly, a rebel who lives in a "castle" built by himself. If we had the opportunity to form a three person project it would be the coolest project in the world. Ha ha.
One of your latest designs is the Moon Scooper handbag. How did this adorable piece come to be?
Inspired by a well know Chinese saying, "Fishing for the moon in the water." A metaphor in vain and a lesson in futility , it means trying to catch something's reflection, you won't catch what you're trying to obtain. However, in my design, I want to express that the moon in the water can be salvaged after all and that you shouldn't cling to the rules set by others. Standing on the opposite side of this saying I designed the inspirational work of the Moon Scooper.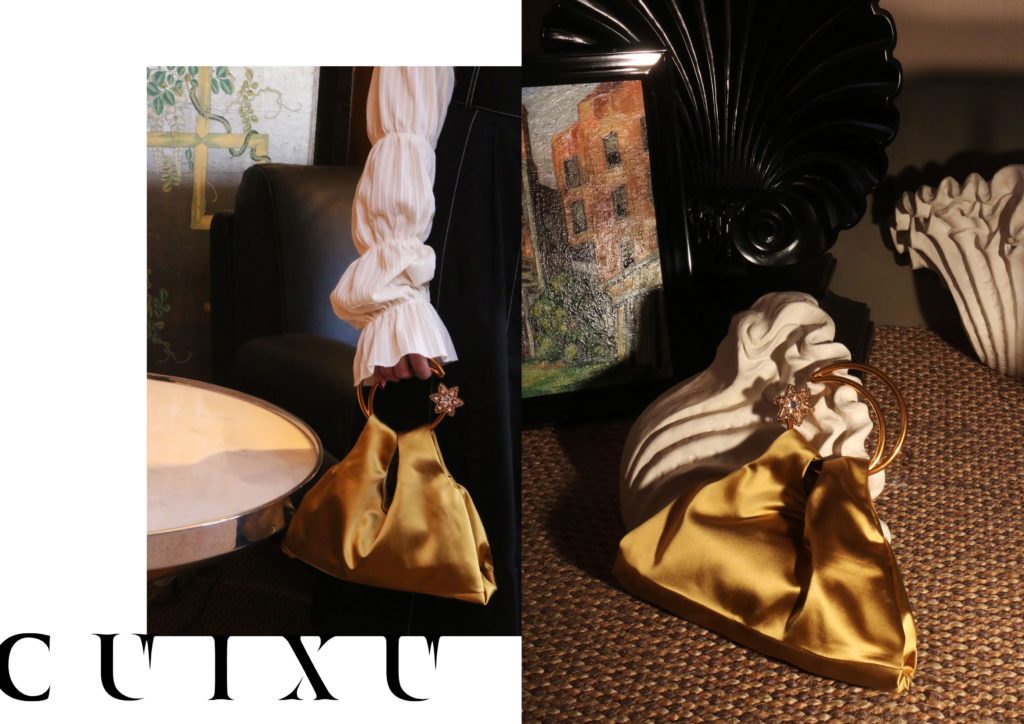 Which piece of your collection is your favorite?
My favorite design is my Moon Scooper handbag, not only because of its inspirational story, but because the seemingly simple structure actually took up most of my time in developing. Just plating the metal handle took five times to achieve the desired finish and I reworked the structure of the body three times for the sample to be perfected. But, in the end it is clearly worth it, good things take time.
Do you have any exciting projects coming up that we can look forward to?
Next week we are going to be shooting a short film for the 'Moon Scooper' in the deserts of Los Angeles. To ensure that Cuixu first film met our brand's standards I went for two months to study professional film and media production. From the script to the venue and choosing a model, everything was meaningful and personal to me to stay true to the Cuixu brand concept. Along with the film production we will also show the source of the Cuixu logo.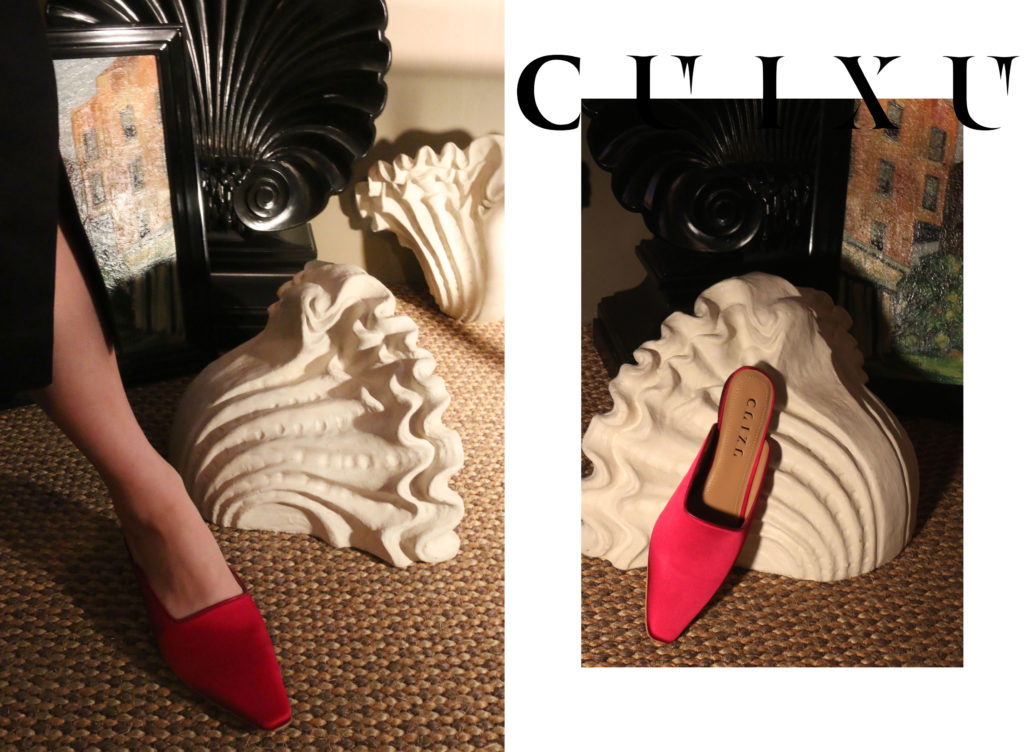 Who is the Cuixu woman?
Although our current design is for women, we are working on creating a line for men as well. She/He are not the typical group of people, and what they have in common is an unwillingness to be mediocre and they clearly understand what they want. They may listen to the same songs as the general public, watch the same movies, but do not allow themselves to be influenced to have the same opinion and mood as the general public.
Do you have any advice for young women who want to become designers?
Believe in yourself and be flexible in your work. This is what I've learned over the years.
To Explore The Full Collection Visit: CUIXU
Photo Credits: Cuixu
CAMPARI: RED DIARIES