Aureus in Latin literally means golden and that is the perfect name for this one-of-a-kind surfboard. The team at LUX Surfboards, Ellie Miller and
Danni Bradford, broke convention when they created Aureus, the world's first and currently only 24 Karat gold gilt surfboard.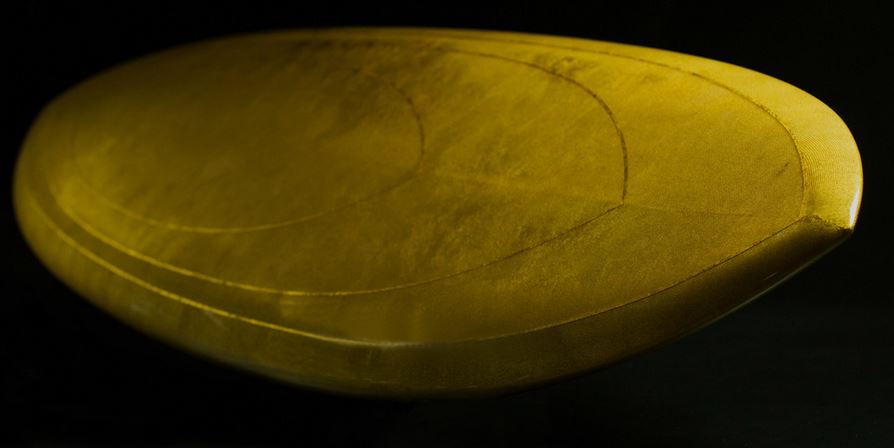 The design of this golden god hails from the early 1970s and keeps with the traditional single-fin short-board layout. This work of art was  handmade in England with the greatest care and craftsmanship. The gold leaf was hand-applied to accentuate every curve. The deck's triple layer gold leaf elliptical pipeline design matches the glassed-on fiberglass fin and hand cut 24 karat gilded LUX icon on the hull to perfection. But don't be fooled by all the glittering gold, this surfboard still remains true to its calling. Although whoever acquires Aureus would probably not be too keen on taking it out in the elements, rest assured it can take on the swell with the best of them.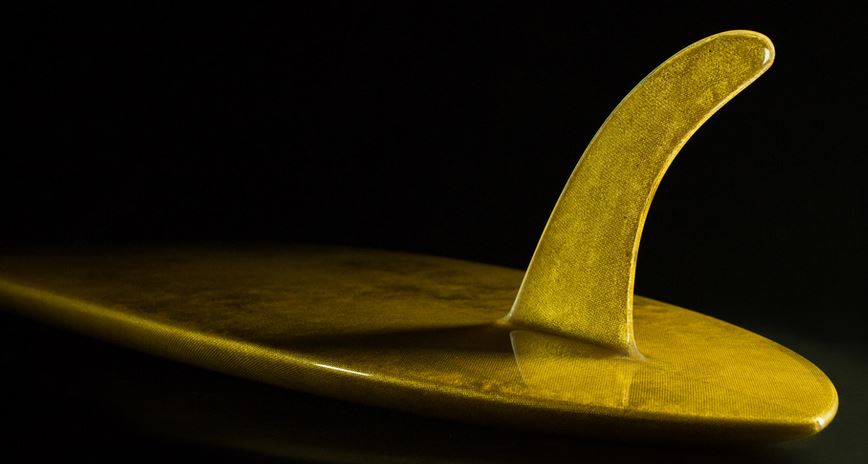 LUX Surfboards now holds the title of creating the world's first 24 Karat gilded surfboard. And to keep it interesting Ellie Miller is the only professional female board maker in Europe, and Danni Bradford is an artist that also specializes in verre-eglomise, the gilding of glass.  Excitingly Aureus is being featured at the T5 Gallery, in Terminal 5 at Heathrow Airport in London at the beginning of October. Not only will T5 Gallery host Aureus for everyone's viewing pleasure, but Danni's personal artwork featuring the verre-elgomise style will be displayed as well. A spectacular way to kick off the fall season.
We had the pleasure of having an exclusive interview with the pair to talk about Aureus, their newest collaboration with the T5 Gallery, and what the future holds for LUX Surfboards.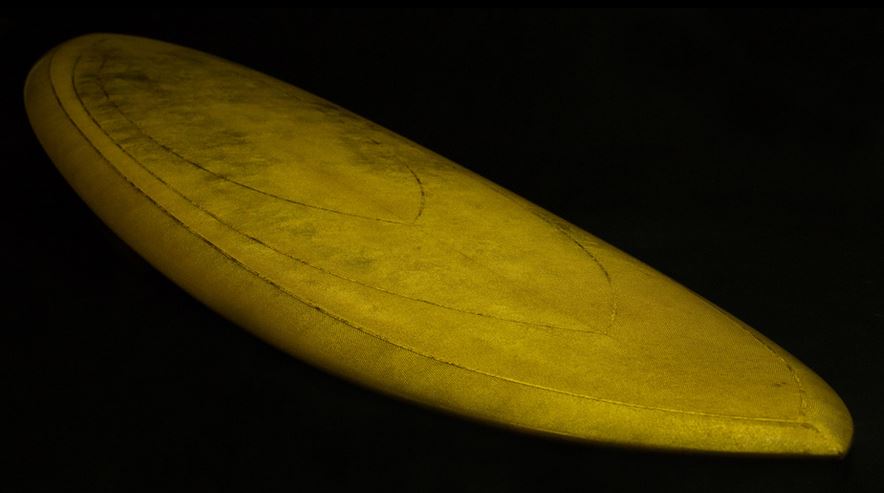 What is the inspiration behind the name, Aureus?
Danni: The Aureus was a gold coin of ancient Rome, which is highly sought after and prized by collectors for its purity as well as its historical interest. Ellie has a real interest in history, and so it just seemed to fit.
Are there any future plans to make other altered versions of Aureus? 
Ellie: There will ever only be one Aureus! But we have firm plans to follow up with more surfboards of this unique nature.
What are your feelings about Aureus being displayed at T5 Gallery?
Danni: We are very excited that the board is headed to the T5 Gallery. They are a world class commercial gallery, and we are honored to be working with them. We feel they are perfect to take us forward and are delighted they have chosen to work with us.
Before the collaboration with T5 Gallery, have either of you had the opportunity to visit the gallery? If so, what was your favorite art piece displayed?
Ellie: We both visited the gallery a few months ago. The standard of work displayed in the Gallery is of the highest level, and it's really hard to pick one favorite, but the wood and resin 'Stingray' By Andy Baerselman has to be one of my personal favorites. Totally stunning work!
Any hint to the next big project for LUX Surfboards?
Danni: When we made the Aureus we really only touched on the tip of the iceberg as far as whats possible with this technique. We wanted it to be simple yet striking. The next board will be even more intricate we have plans to introduce designs within the gold leaf buy using different tones of gold i.e rose gold or Champagne gold. Whether this will be be a geometric pattern,  a form or pure abstract will all be revealed with the launch of "no.2".
You're starting autumn off right, with the Aureus being displayed at T5 Gallery, any big plans for the end of the year? 
Ellie: Winter is the ideal time for us to work on new projects, so it will be heads down and focusing on starting work on the next surfboard…..they each take several months to complete, and winter in England is a good time to be indoors!
Describe your collaboration with developing Aureus.
Danni: It really just started as one of those chance conversations. We are always bouncing ideas around but this one just stuck! At the time I was deep into experimenting with gilding in my own artwork…every week I was trying out something new. We got completely fixated with the idea, did some research and testing with the materials then just fell in love with the idea. The way the gold and fiberglass looked together was mesmerizing, so we decided to go ahead. That's when things got really interesting! The planning stage was highly involved. We knew the look we wanted to achieve and that required intense planning to ensure each layer of the construction happened exactly as planned. There could be no second chances with these materials. It was tense, from start to finish for both of us, but especially for Ellie. Working with gold leaf, resin and fiberglass was a huge challenge, but the finished piece completely surpassed our expectations.
Could you share how Aureus came to be displayed at T5 Gallery?
Ellie:  It was a chance meeting that put us in touch with the gallery, and after a few phone conversations we went up to meet with them and discuss the possibly of representation. We were delighted when they said they wanted to work with us. As well as working with us as LUX Surfboards they will be also be representing Danni as an individual artist. Danni has developed a really unique style of artwork using the art of Verre-eglomise – the gilding of glass, and is working on some really large animal study pieces for T5, which will also go into the gallery in autumn. The gallery is situated in a great position within the first class departures of Terminal 5 of Heathrow Airport, London, so it's a great opportunity for  both of us, with a high level of exposure to an international client base with the gallery offering guidance and support going forward. It's really exciting times.
What is your favorite type of surfboard?
Danni : My favorite surfboard of all time is an orange longboard that Ellie made me about 5 years ago. It's based on the Velzy 'pig' design. It was and still is my dream board!
Where is your favorite location to surf?
Ellie: My favorite location to surf is Canos de Meca in Andalucia, on the tip of southern Spain. A really long point break with Morocco shimmering on the horizon, and when you are done surfing there is plenty of good tapas and vino to keep you going until the next session….heaven!

TO LEARN MORE VISIT: LUX SURFBOARDS
TO EXPLORE MORE VISIT: T5 GALLERY
Written By: Amber Kunkel
Photo Credit: LUX SURFBOARDS
SUBSCRIBE TO OUR MAILING LIST FOR MORE LUXURY TODAY!
YOU WOULD ALSO ENJOY
---