"Every bride should have the perfect shoe for her special day. Like your dress,  the accessories and the flowers, your shoes should be as exceptional as you are."  – Jessica Bedard
Something Old.

Something New.

Something Borrowed.

Something Blue.
This saying is meant to represent the bride's past and her matrimonial future, allowing some good luck to rub off like a lucky rabbit's foot, and lastly to symbolize devotion and love.  But for a lot of bride's this can just be another added stressor as she tries to salvage all these items.  So Jessica Bedard whimsically orchestrated all these tokens beautifully into a single pair of shoes for the bride on her wedding day.  And once her big day is over, these shoes are ready for any night on the town with the newlywed couple. After all, they are handmade in Italy with the finest care and materials that every bride deserves.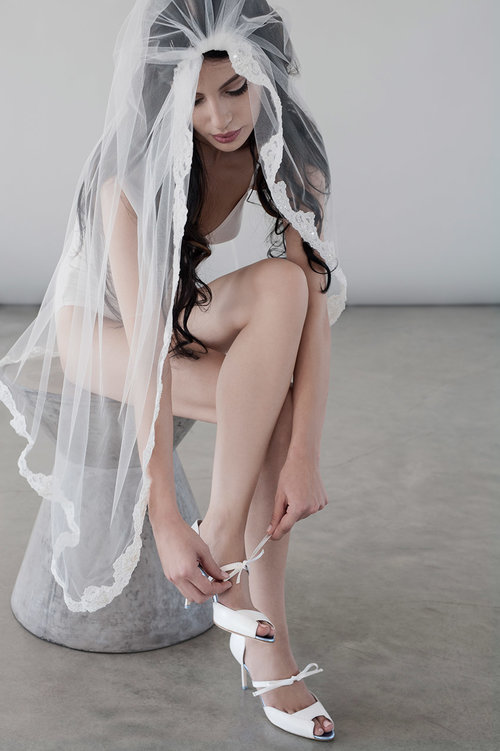 Something Old.  Jessica took the old classic saying and etched it on the sole of each the shoe.  Something New.  For that, you have none other than your own handcrafted new pair of Jessica Bedard luxury foot wear.  Something Borrowed.  This is creatively done with a magnetic ring located on the bottom of the left sole. Prior to her big day, the bride ships the ring back to Jessica, to be used for a new pair of shoes for another blushing bride.  Something Blue.  This is a light pale blue located on the tip of each heal, making each pair of Jessica Bedard shoes instantly recognizable.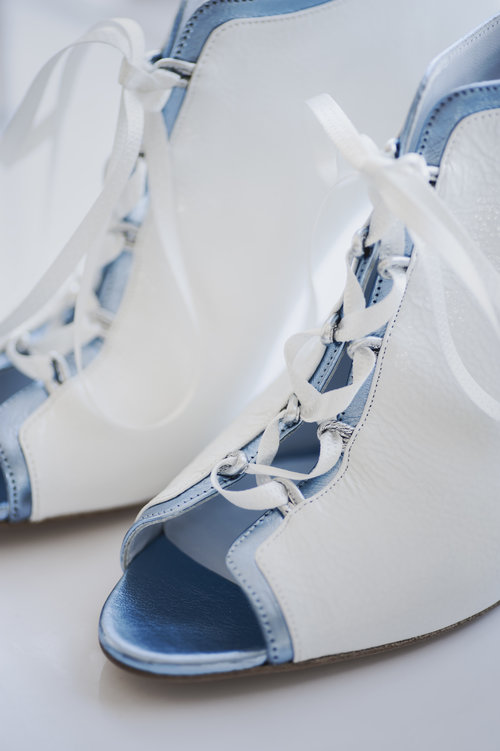 Old.  New.  Borrowed.  Blue.  Jessica Bedard gives new meaning to this timeless tradition that every bride will be thankful for.  And we had the opportunity to speak with her in this exclusive interview to learn more about her brand and get a sneak peek into that beautiful mind of hers.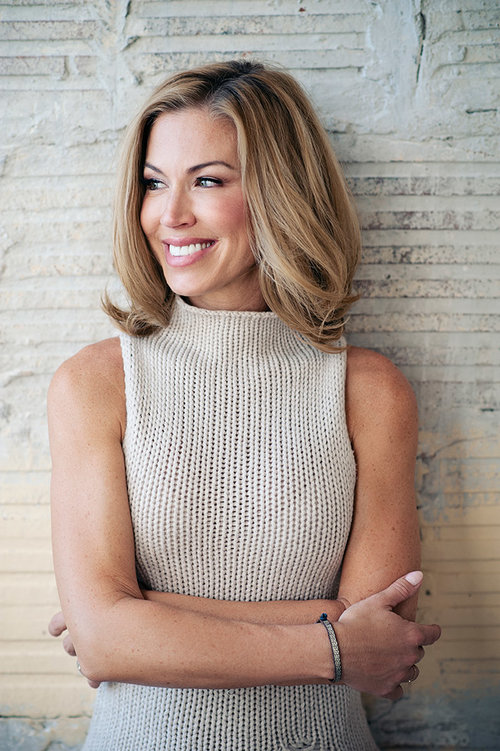 Since it is well known that you started your famous shoe line because you were inspired by the lack of choices that you encountered when preparing for your own wedding, does this mean that the first pair of Jessica Bedard bridal shoes were designed by you for your Big Day?
Although it would sound like a dream, I did not had the chance to wear my shoes on my wedding day. My bridal shoe line was born only last year, three years after my own wedding. 
Where do you pull your inspiration from?
I get inspired in different aspects of life. My attention can be caught up in a detail from a old building in Italy for example. Or I can wake up in the middle of the night and decide that two specific colors would be great together for the next collection. To built a collection it takes time. You can't just sit down and have it all figured out. It's also important for me to travel and look at old fashion books and magazines. Fashion is a circle!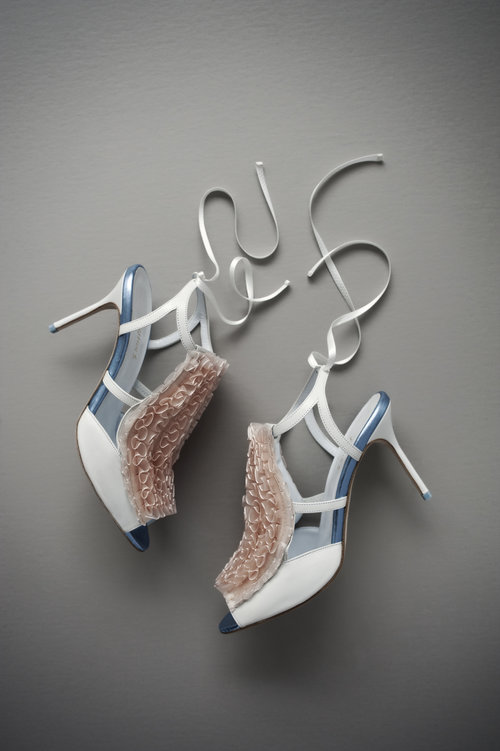 Have you ever been asked to design a shoe exclusively for a famous bride?
I have never been asked to design a shoe for a famous bride YET, but Selena Gomez – Please, reach out to me if someone puts a ring on it! She is beautiful inside and out, she is classy, she is real and she likes Canadian people. She also has the most followers on Instagram!
Have you ever thought of expanding your shoe line? Perhaps for every day wear?
I am expanding my brand. I have a line called Jessica Bedard Pret-a-Porter coming out. I just launched four pairs of black shoes this week and I have twelve more pairs coming out very soon! I am very excited about this line. It allow me to reach a bigger market. This new line is inspired by modern furniture and architecture.
Could you tell us a little bit about your conception of using the classic tradition of 'Something Old. Something New. Something Borrowed. Something Blue.'?
I believe that anyone can design a Bridal shoe line. To stand out, I decide to have an emotional story behind my shoes because it gives value to my brand. I love that it makes my shoes different from what we have on the market already. Something new is your shoe, something blue is our signature blue top heel, something borrowed -for good luck in her marriage, the bride takes the magnetic ring under her left outsole and ships it back to me in the envelope we provide in her shoe box. This ring is then used on another pair of shoes destined for another Jessica Bedard bride! Something old -The tradition is beautifully etched on the sole of each shoe.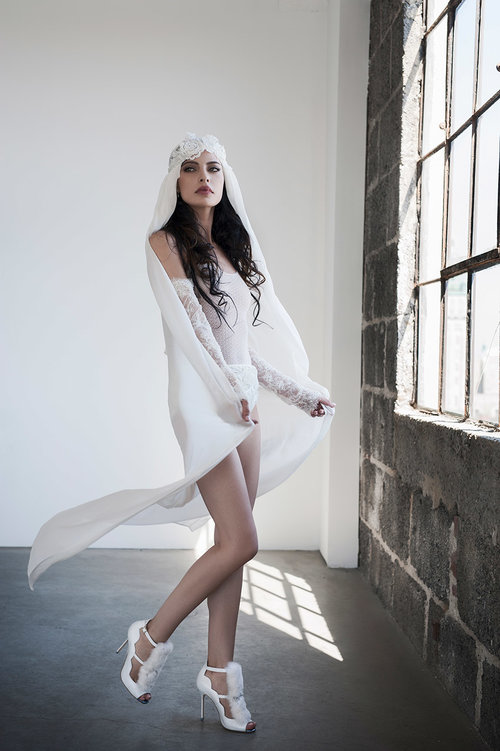 What shoe designer is your favorite?
My favorite designer is Alessandro Michele. I love the way he has rebranded Gucci. It is FANTASTIC! I also really love Olivier Rousteing. He is refined and unique and I love that about him.
If you could do your wedding day all over, what would you have changed about your shoe choice?
My wedding was small and intimate. It was everything my husband and I dreamed of. Now… imagine if I would of have the chance to wear my own shoes on that dream day! 
As a designer, how would you describe your personal style?
I don't have a particular style. It really depends on how I feel. Style is a way of expression for me. I really try to not follow fashion too much. I love to be classy but different. I believe that it's more about being confident about what I wear then the outfit itself. 
If you could design a pair of shoes for anyone, who would it be and what who their footwear look like?
I would love to design a shoe for one of my long-time icon in fashion; Victoria Beckham. The shoes would have very clean lines, it would be matte with a mix of three colors that you would never think of matching together. Voila. 🙂 
To Explore The Full Collection Visit:Jessica Bedard
Written By: Amber Kunkel
Featured Shoe: Elle
Photo Credit: Jessica Bedard
SUBSCRIBE TO OUR MAILING LIST FOR MORE LUXURY TODAY!
YOU WOULD ALSO ENJOY
---