MOVING AT THE SPEED OF TIME
For the connoisseurs who always have to have a look under the hood to see how she ticks, Hublot has unveiled the heart of the MP-05 LaFerrari for the first time ever. Seven blocks of pure transparent sapphire have been sculpted and carved into the most invisible horological encasement yet. Designed by the Hublot team, the LaFerrari series pays homage to the Italian supercar monolith. Collaborating with Ferrari's design director, Flavio Manzoni, they envisioned a timepiece of the future with the fierce adrenaline filled design elements that scream across the racetrack.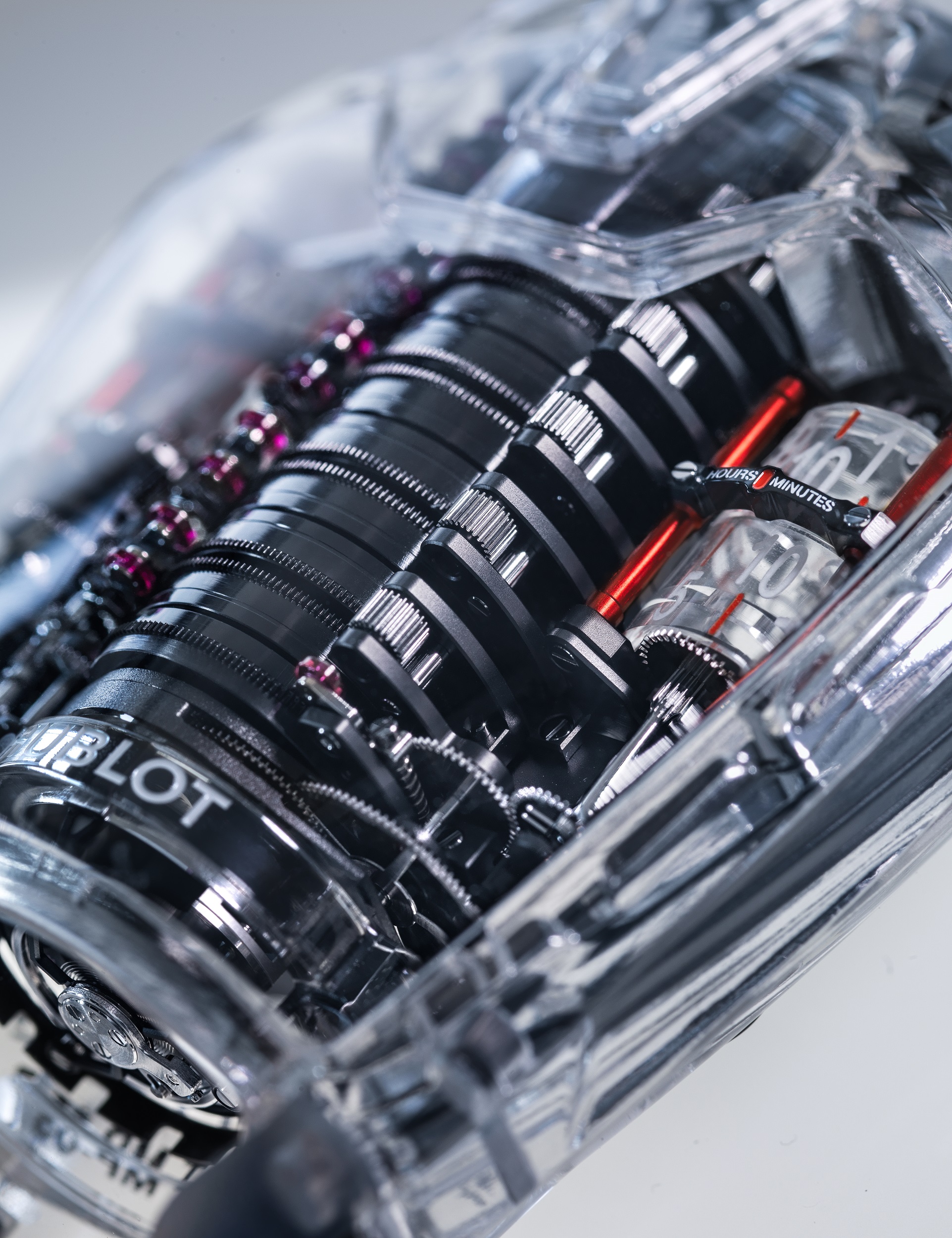 The unconventional curves and unapologetic engineering held within the jeweled walls is truly one of a kind. The provocative movement of all 637 components are suspended in the vertical tourbillon, while the hours and minutes are positioned to the right of the barrels, and the power reserve to their left, are also displayed via transparent cylinders. The ultra exotic elements push the envelope even further than before, and that is saying something given the fact that the MP-05 LaFerrari series delivers a record breaking technical feat of 50 days power reserve, thanks to its 11 series-coupled barrels set in a spine formation down the center of the watch.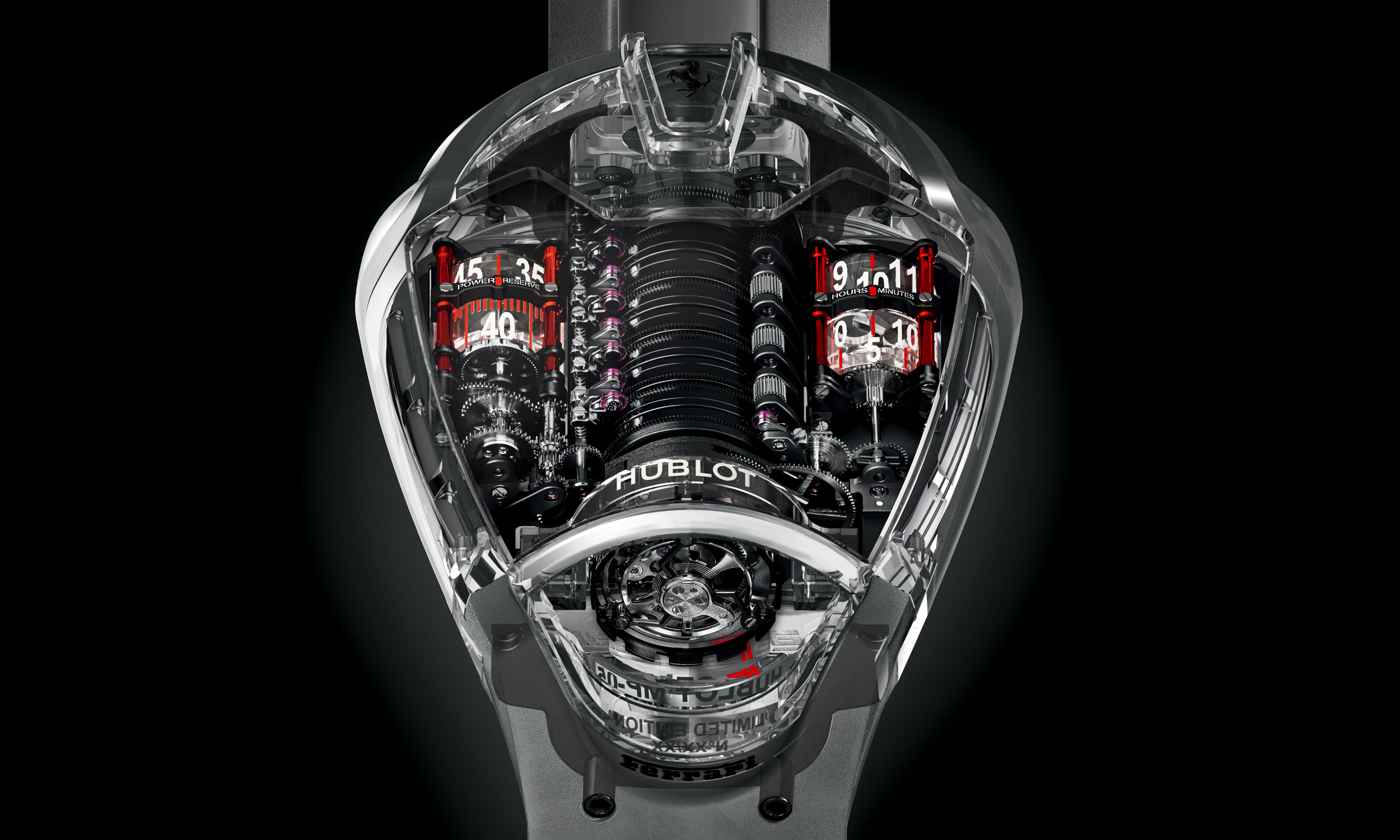 Exceptionally rare, it is limited to only 20 faceted pieces. Adding to its lucent intrigue is the transparent silicon strap, with a clasp which also features components carved from sapphire. And just like any high performance machine you need the right tools for the job, here Hublot engineered the watch to be wound by a mechanism using a miniature power drill, modeled on the tyre-changing tool used in Formula 1®. Infused with a futuristic extraterrestrial design aesthetic the MP-05 Laferrari Sapphire is the kind of collectors timepiece that turns heads at whiplash speeds. As fast as, well, a Ferrari.
MOVEMENT: HUB9005.H1.PN.1; Movement dimensions: Ø 45.8 x 39.5 mm; Thickness 15.30 mm; Tourbillon cage diameter Ø 14.50 mm; Number of jewels 108; Number of components 637; Frequency 21,600 Vib/h (3 Hz) Power reserve 50 days
CASE & CASE BACK : Polished sapphire crystal with anti-reflective treatment; Suspended vertical Tourbillon; Ergonomic time-setting system under the case middle (wrist side); Invisible manual winding; 11 series-coupled barrels; Water resistance 3 ATM or 30M
STRAP & BUCKLE: Transparent smooth strap; Buckle Polished sapphire crystal and microblasted black-plated Titanium deployant buckle
PHOTO CREDITS: HUBLOT
SUBSCRIBE TO OUR MAILING LIST FOR MORE LUXURY TODAY!
YOU WOULD ALSO ENJOY
---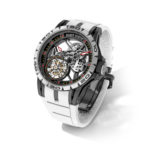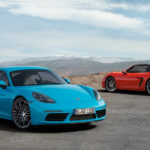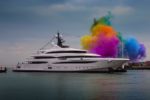 ---
FOLLOW US ON SOCIAL MEDIA