Bugatti has already begun production of their highly anticipated super sports car, the Chiron, in the snowy terrain of Molsheim in Alsace, France. Creating up to 70 of these exotic cars this year alone means the production house is currently in full action, and to bring this racing dream into reality takes an exceptionally skilled crew and an advanced production building, which Bugatti calls their 'Atelier', due to the fact that their focus isn't so much on producing a vast quantity of cars yet to create a small bespoke collection of hand crafted perfection tailored to their customers every need.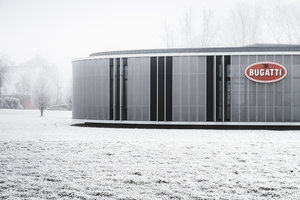 Inaugurated in 2005, with over 1,000 square meters, the Atelier has an oval configuration, based on the French brand's logo the Bugatti "Macaron". It was designed by the renowned architect Professor Gunter Henn from Munich. For more than 10 years the Veyron 16.4 and its derivatives were built right here. For the conception of the Chiron, many modifications were made to the Atelier to take into account the new product properties and increased complexity of the production process.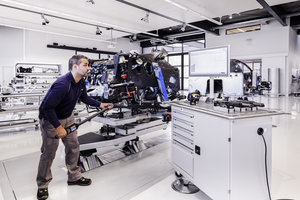 The most eye-catching change to the Atelier is the floor. It is made from an epoxy and it is conductive, which ensures the dissipation of any electrostatic charges. The reflective glossy white canvas creates an atmosphere comparable with the catwalk of a fashion house.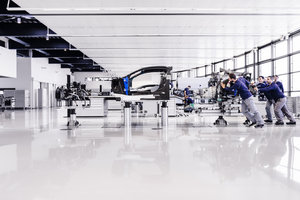 We are building a super sports car. That is quite clear," says Christophe Piochon. "But it is the way we do it, hand-crafting an individual product for each customer in the very special atmosphere, that makes us unique. This is 'Haute Couture de l'Automobile.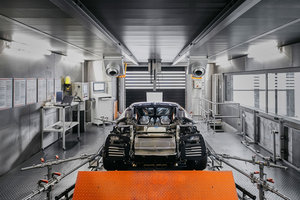 The Bugatti rolling dynamometer is the most powerful of its type in the
world.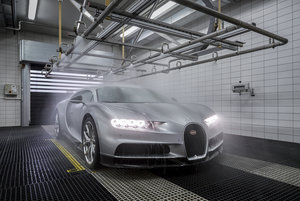 During the water test the Chiron is exposed to monsoon rain of varying intensity for 30 minutes to show that there are no leaks.
In the light tunnel a certified team member carries out a relentless inspection of the finish for more than six hours before the car is given his final approval of the finish.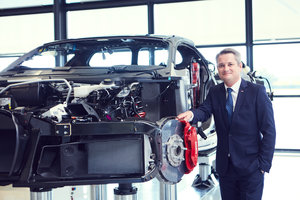 The time consuming scrutiny and attention detail using the finest production standards is what puts Bugatti into the very elite league of super sports car producers.
Photo Credits:© 2017 Bugatti Automobiles S.A.S.;© 2017 Heiko Simayer for Bugatti Automobiles S.A.S.
SUBSCRIBE TO OUR MAILING LIST FOR MORE LUXURY TODAY!
YOU WOULD ALSO ENJOY
---