Known for their artful curiosity the Fornasetti atelier has become a place for dreamlike compositions. Originally from Milan, Piero Fornasetti was a painter, sculptor, interior decorator, book printer and creator of more than 11,000 artworks. His production of objects and furniture is one of the most prolific of the 20th century and Fornasetti is celebrated as one of the most original creative talents of the last century. Fornasetti has created a fantasy world saturated by lush imagery full of whimsical humor, where a large majority of his work featured paintings of his muse, the opera singer Lina Cavalieri. Under his skillful hand her beauty has become an iconic symbol and her delicate features have endlessly taken center stage as he has re-imagined her visage into countless designs.
This season one of their most popular creations, the Fornasetti candle, is on oh-so-many wish lists for the holidays. A perfect way to celebrate the festive season in the glow of beauty and art. Here we present the winter collection.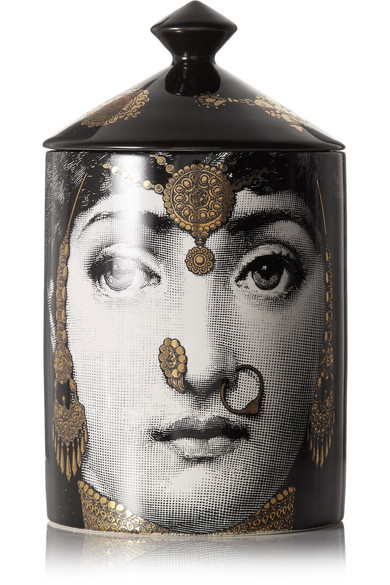 Introducing the 'L'Eclaireuse' scented candle collection with a new scent 'Mistero'.
The candle design 'L'Eclaireuse' features the enigmatic face of Fornasetti muse Lina Cavalieri and gold decoration shows two sides of the same face, an enchanting woman, half princess, half pirate. A free spirit, a witness to history, a culture, a past…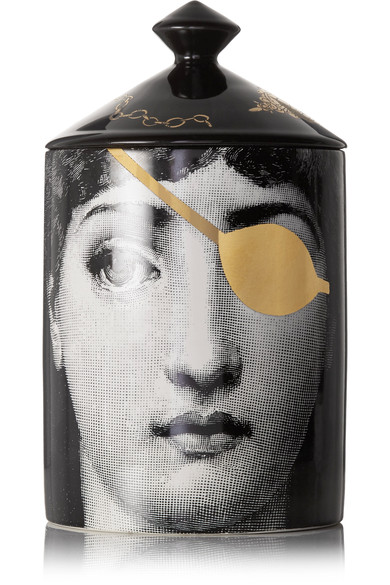 The 'Mistero' scent is a union of warm wood and spicy aromatic notes. This unique perfume was developed by the famous fragrance house, Robertet, in Grasse. It exhales subtle scents of pepper and cypress combined with notes of incense, laurel and geranium, on a base of patchouli, cedar and sandalwood. An enchanting fragrance with deep accents.
Top Notes: Pink Pepper & Cyprus

Middle Notes: Labdanum, Laurel & Incense

Base Notes: Cedarwood, Sandalwood & Musk
This season they have made the  'Golden Burlesque' to be a gilded addition to their Burlesque collection. Once again featuring the iconic face of Lina Cavalieri, 'Golden Burlesque', features two faces, or two opposing sides of the character of this mysterious woman, highlighted in gold. The look is a playfully seductive and mysterious take on the theme and a very Italian aesthetic.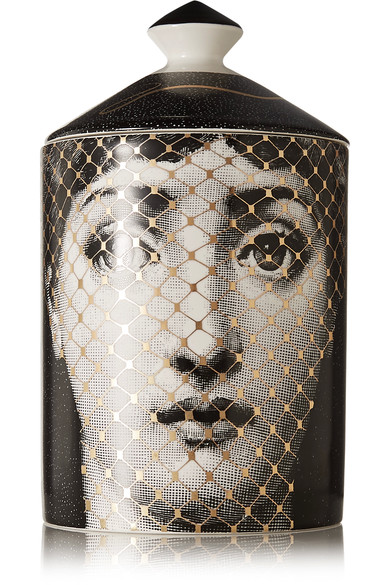 It burns with their signature "Otto" scent created by master perfumer Olivier Polge. It makes use of ingredients that are of personal significance to Barnaba, the late Fornasetti's son. The Mediterranean herbs that were found in and around the family home, woods often utilized in interior designs or pieces of furniture created by Fornasetti. Other more ethereal ingredients – such as incense – conjure a latent spirituality or sense of dreamscape that is often present in Fornasetti graphic poetry.
Golden Burlesque

Top Notes: Thyme & Lavender

Middle Notes: Orris & Cedar Wood

Base Notes: Tolu Balsam, Incense, Birch/Styrax & Labdanum
In a continuation of the 'Otto' fragrance they have a few other beautiful choices that you can wrap up this season.
They are presenting a set that features three architectural designs, typical of the architecture of Italy and inspired by the famous Italian architect, Andrea Palladio, widely considered to be the most influential individual in the history of architecture. The set includes: 'Architettura', a re-edition of 'Casa con Colonne', and the new design 'Palazzo' exclusive to the collection set.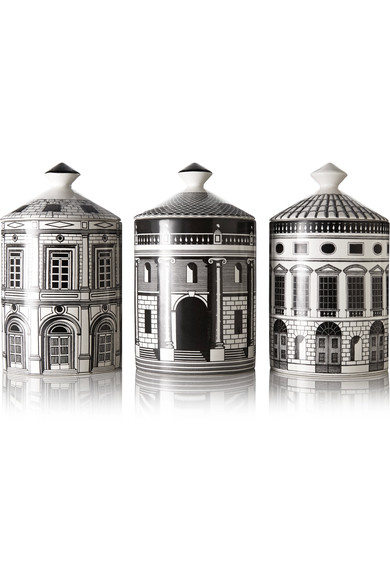 And, a new addition to one of the most stylish designs in the collection, 'Pennini Nero'. The new Scented Candle features a rhythmic interchange of gold and silver pen nibs on a black background, and corresponding gold and silver 'ink' trail on the lid. Perfect for the writer in us all.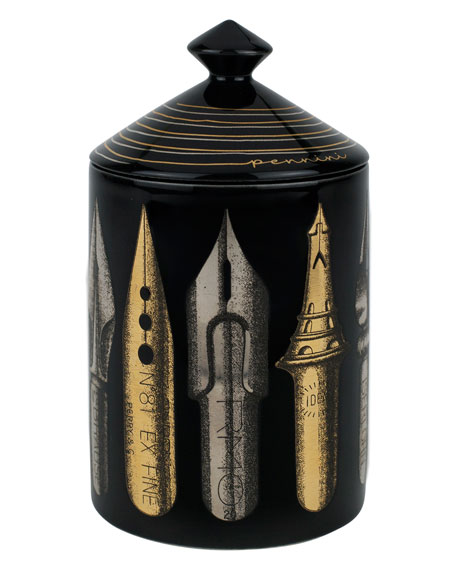 And, if you feel like a kiss the Bacio is the perfect cherry red lips that are sure to inspire a few delicious moments as you spark a fire.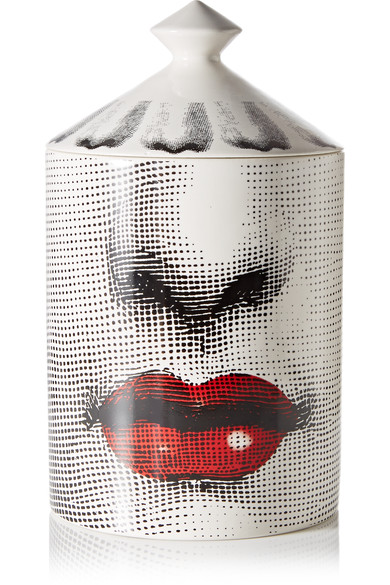 Happy Holidays,
Les Carats! xx
PHOTO CREDITS: FORNASETTI
SUBSCRIBE TO OUR MAILING LIST FOR MORE LUXURY TODAY!
 YOU WOULD ALSO ENJOY