With wedding season in full swing we are naturally transitioning into honeymoon season. A season that requires much less organizational skills, family/social tiptoeing and thank you notes are purely optional. When choosing your special escape it's a good idea to think about the kind of romantic experience you as a couple would most like to enjoy at the beginning of your journey together. Are you more of an exotic location kind of couple, or more of a private hideaway twosome? Will adventure or pampering be on the menu? Nearby or multiple flights required?
Here are some of our favorite honeymoon destinations to inspire your journey of love.
---
ROYAL MANSOUR – MARRAKESH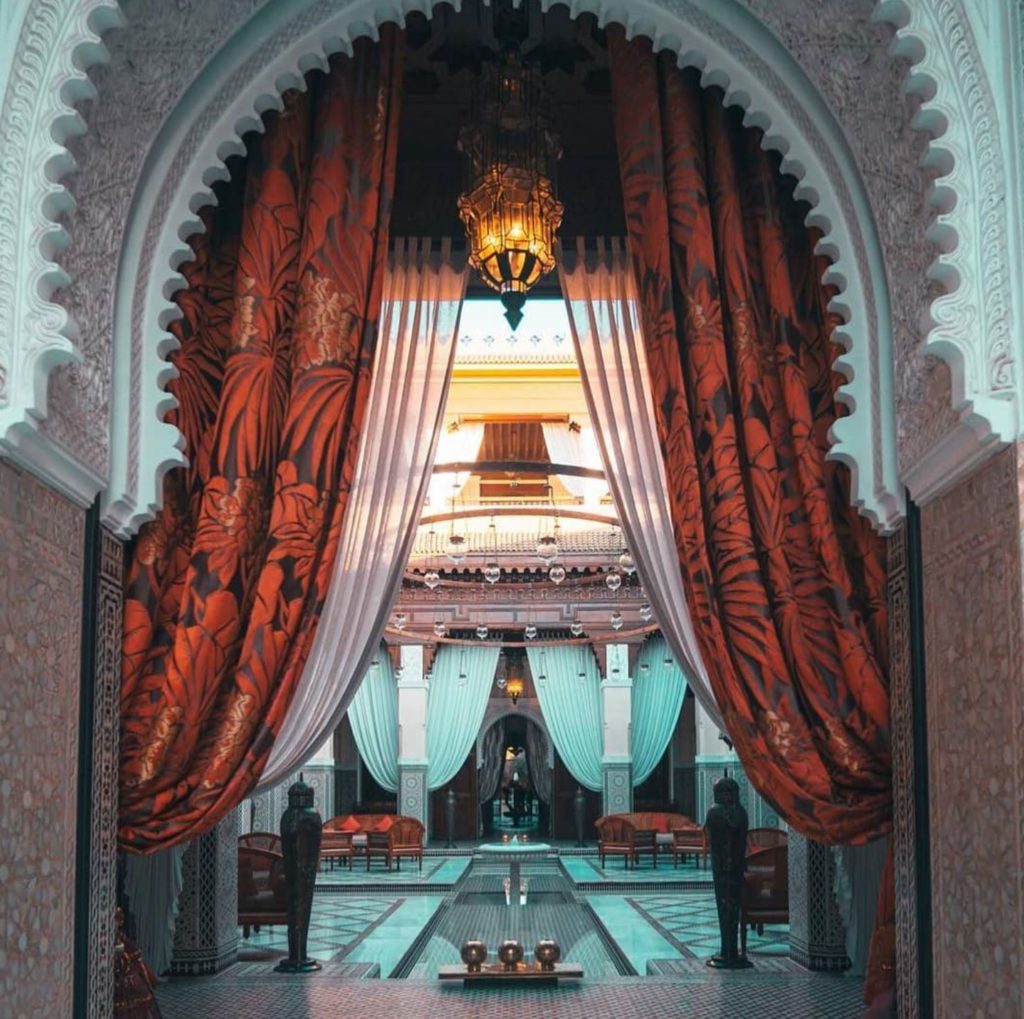 It's a good idea to treat your life partner like royalty and there is no better way to make them feel like a king or queen than to begin your life together at one of the most luxurious destinations that is actually owned by a king, the King of Morocco to be exact.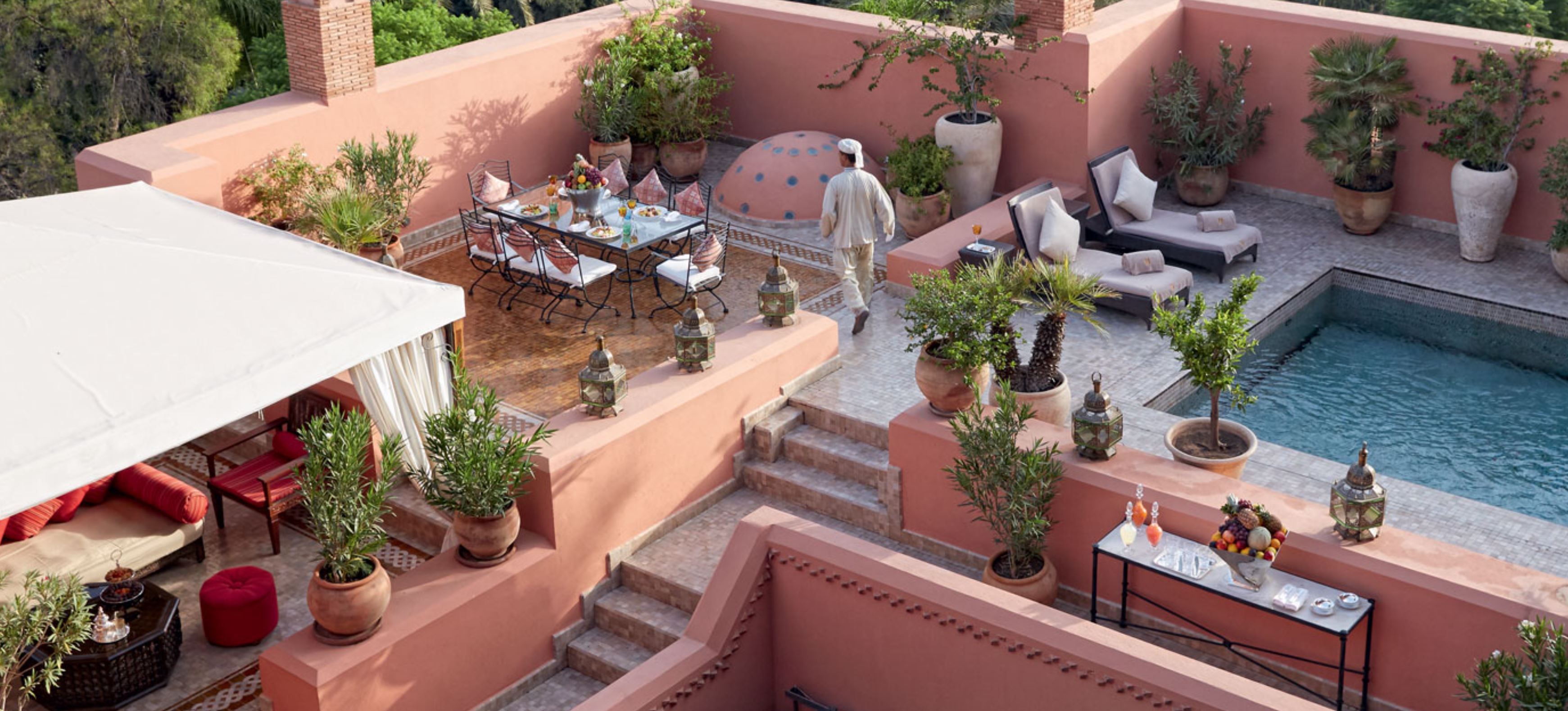 At the Royal Mansour Marrakech, rooms and hotel suites are replaced by luxury riads, spread across a medina filled with little alleyways and secret doors. It's here, in this location with its one-of-a-kind concept, that the 53 private residences of the Palace hide. Each riad of the collection is unique, with 3 floors decorated to its own style. All you have to do is select one and you're on for one of the most beautiful experiences of your life.

Stand in amazement as your riad's door opens out onto the patio and reveals the quintessence of Moroccan craftsmanship. Subtly varying zelliges, fabrics, wood features, rugs, carved plaster and custom-made furniture give the riads their harmonious and elegant vibe. Captivate your senses… The roof terrace with views of the Atlas Mountains, a private pool and complete immersion in the Moroccan lifestyle… The Ochre City has never been so imperial.

-Royal Marrakesh
---
ELYSIAN RETREAT – GREAT BARRIER REEF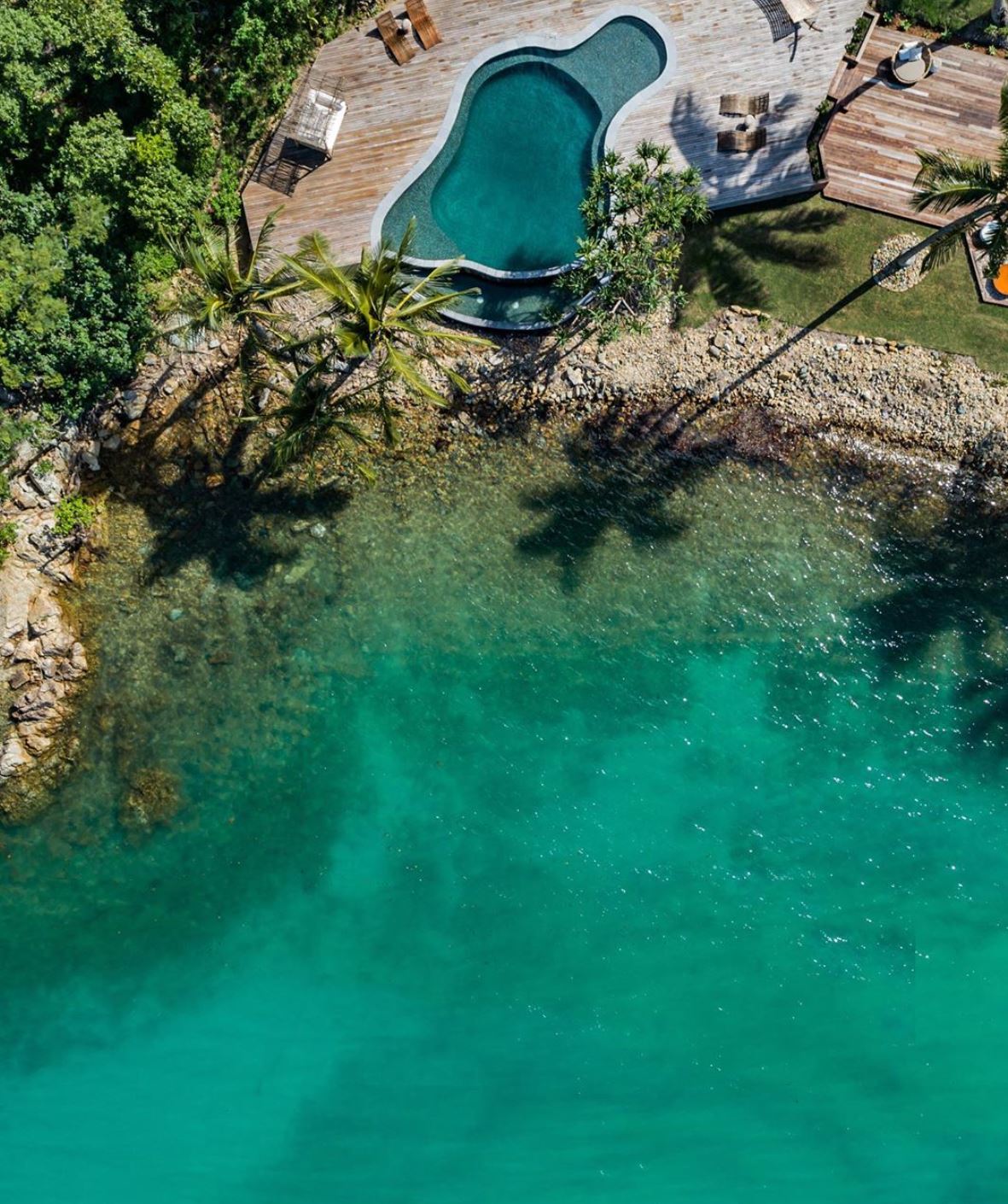 With a maximum occupancy of just 20 guests, privacy reins king on the Great Barrier Reef and is ideal for honeymoon romance among one of the most precious locations in the world.
The appreciation of the ocean and Elysian's natural sourrundings have influenced the style of the retreats. Every aspect has been designed to allow tranquil immersion and disconnect from dayto-day routines.

10 beautifully appointed oceanfront villas cast views over ocean, mountains and rainforests with the interiors handcrafted from solid Australian hardwood boasting high cathedral ceilings, large windows and private balconies, with uninterrupted water views.

Drift away in outdoor hammocks, find stillness in the zen garden, laze on the day beds or float in the gentle mineral resort pool to relieve stress, anxiety and muscle aches.

-Elysian Retreat
---
LA RESERVE – PARIS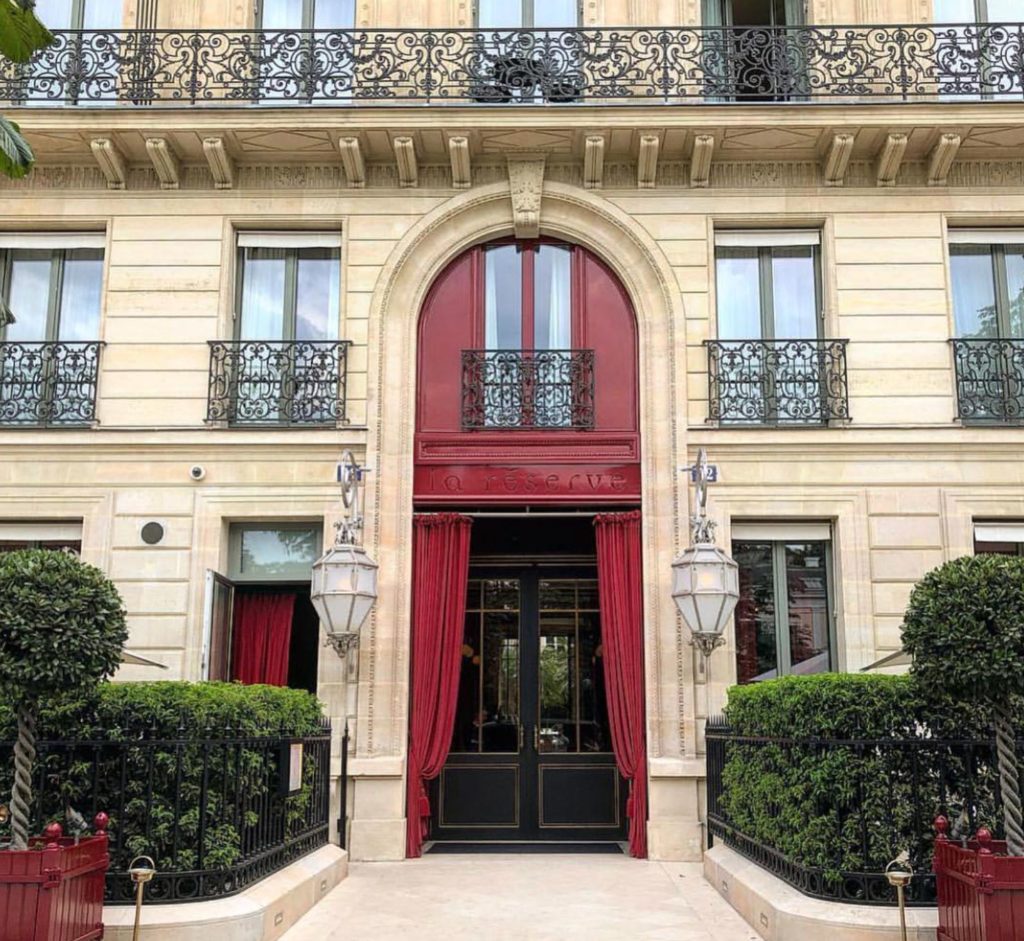 When nothing short of pure romance will do. When you need a rich, red lacquered door as a gateway to love. Where champagne feels just as at home here as you do slipping into a bubble bath in a silver tub set like gem amongst all the carrera marble. When you need Paris. No honeymoon location is more iconic. And, no hotel as perfectly prepared to suit all your lover's needs than La Reserve Paris.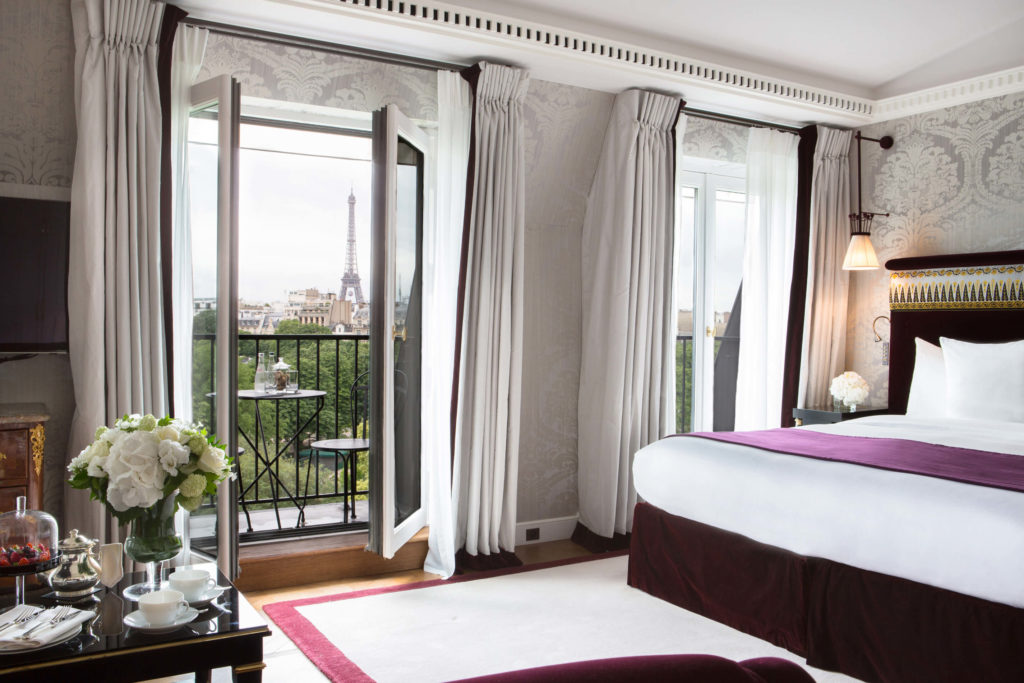 Live life like a Belle Époque emperor at palatial La Réserve Hotel and Spa Paris, set in a Haussmann mansion built for Napoléon III's half brother, the Duc de Morny. Taking the hotel's history into account, nobody should be uttering 'quelle surprise' on account of its swellegant feel and furnishings. Princely touches include butler service, silk-clad walls, priceless antiques, Damascene brocade, taffeta, bathrooms kitted out in Carrara and Turquin blue marble and herringbone parquet flooring. A two-Michelin-starred restaurant, dreamy spa (with a lengthy pool) and hard-to-beat location complete the regal French fantasy.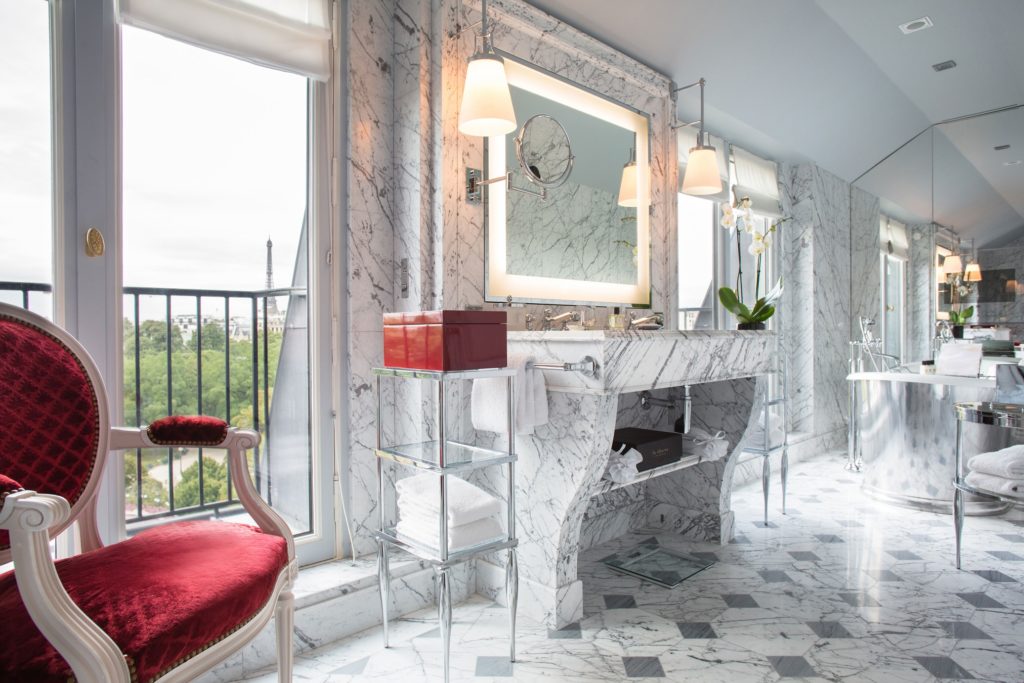 Mid-way between Rue du Faubourg Saint-Honoré and Avenue Montaigne, a stone's throw from the Champs-Elysées, where the heart of Paris beats. Nestled in a peaceful location, slightly set back from the world's most beautiful avenue, La Réserve Paris – Hotel and Spa overlooks the Grand Palais, the Eiffel Tower, the Pantheon and the Concorde obelisk. Just in front, a majestic curtain of trees preserves the intimacy of this place, like an echo of the Elysée gardens nearby.
Michel Reybier's highly distinctive urban mansion has all the elegance of a 19th century private apartment, where ultra-personalized services can be enjoyed in complete simplicity and discretion.
All around are immense spaces bathed in light, barely muted by the rich fabrics of the hangings. Scattered here and there are beautiful marble fireplaces, and everywhere the joy of vast indoor spaces, typical of Haussmann-style apartments. The noble and generous materials exude a forgotten spirit of generosity. More suites than rooms, a library reserved for guests and their friends, a smoking lounge, a 16-meter indoor pool (a rarity in Paris), wine cellars in the suites, an inner courtyard with lush greenery echoing the landscaped entrance. At La Réserve Paris – Hotel and Spa, you experience the quintessence of Parisian chic in the Belle Époque.

-LA RESERVE PARIS
Photo Credits: Royal Mansour; Elysian Retreat; La Reserve Paris
SUBSCRIBE TO OUR MAILING LIST FOR MORE LUXURY TODAY!
YOU WOULD ALSO ENJOY
---