This spring on the 2nd of April 2019, Sotheby's Sale of Magnificent Jewels and Jadeite in Hong Kong will have the pleasure of leading the auction with a behemoth of an oval diamond, coming in at a magnificent 88.22 carats. When it comes to the Critical Criterion for diamonds (the GIA's 4C's of diamonds: Cut, Color, Carat weight and Clarity), this stone has met every category with perfection.

Most people confuse diamond shapes, such as oval or princess, with a diamond cut but the two are not the same. Diamond cut refers to how the diamond cutter achieved balancing the proportion, symmetry and polish of the diamond from its original rough, earthen form and created a diamond that returns the maximum possible light reflections. The cut can either make or break the diamond, so to speak, which is probably why this is considered the most important quality of the 4C's. A diamond that has facets cut, even a fraction off, can cause the light to reflect poorly and make the center of the gem look dark. Thankfully the diamond cutter who touched this beauty had very skilled and qualified hands and honed this into the masterpiece we see today.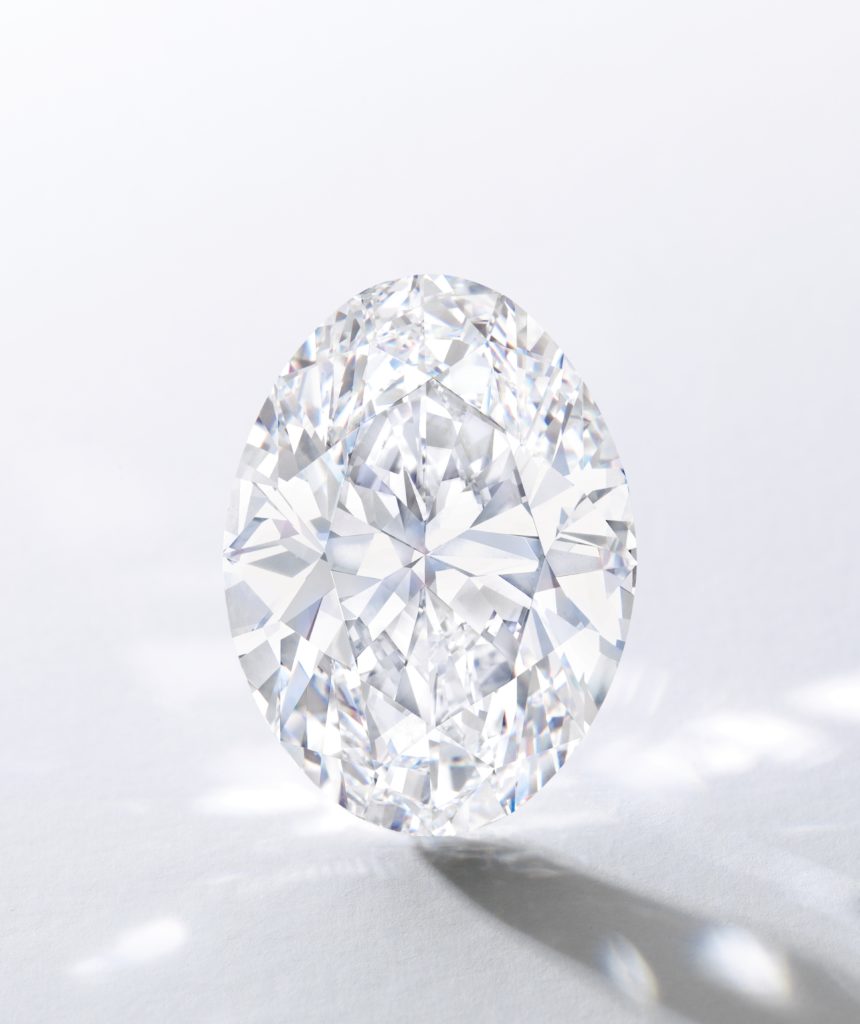 Diamond color or lack thereof (unless referring to colored diamonds) is based on the diamond color scale using Latin letters, ranging from D to Z. D being the whitest and purest. The further down the scale you go, the more the stone has a yellow hue, ending with the last rating on the scale, Z. This splendid diamond has none other than the D rating. And since D diamonds are the hardest to find in nature, it makes this one a rare beauty to behold.
The spring Magnificent Jewels and Jadeite auction will deliver a wealth of colour and design through rare gems and intricately crafted jewels. Unique signed pieces by legendary maisons, such as an exquisite emerald and diamond necklace by Van Cleef & Arpels features alongside a specially curated collection of coloured gemstones and coloured diamonds of exceptional quality.

– Sotheby's


We already know that this mammoth of a diamond comes in at a whopping 88.22 Carats, but what does that mean on the carat weight scale? Carat weight is the actual weight of the diamond and does not refer to its size and is a measurement used only for weighing gems. Diamonds are priced per carat, but the more carat weight a diamond has, the cost per carat increases. Currently this diamond is Est HK $88-100 million / US $11.2-12.7 million. Approximately only one diamond out of a thousand will weigh more than a carat and this one is '1 of 3 oval diamonds at over 50 carats to appear at auction in living memory.'


Diamond clarity is the absence of inclusions (internal characteristics) and blemishes (external characteristics). The diamond clarity scale has 6 categories with subdivisions in some of those categories, making a total of 11. Starting with the best clarity category, Flawless and working its way down the scale to the lowest clarity category, Included. As you can imagine, this immaculate gem received the highest rating, Flawless.

88.22 Carat, D Colour, Flawless, Type IIa, Oval Brilliant Diamond
Est HK $88-100 million / US $11.2-12.7 million

Another thing that makes this diamond so uncommon, is its Type IIa label. That means it contains no measurable nitrogen or boron. This makes it extremely valued and pure. With all these attributes put together, this splendid diamond is one of the rare unicorns in the world of diamonds.
One thing is certain, this incredible Sotheby's auction in Hong Kong is sure to turn heads and maybe even break a few records.
TO EXPLORE THE AUCTION VISIT: SOTHEBY'S
Written By: Amber Kunkel
Photo Credits: Sotheby's
SUBSCRIBE TO OUR MAILING LIST FOR MORE LUXURY TODAY!
YOU WOULD ALSO ENJOY
---