Azimut Yachts will be unveiling the world premiere of their highly anticipated Azimut S6 at the next Cannes Yachting Festival in September. Their copious use of carbon in the construction represents the shipyard's pioneering research and development. The combination of Carbon Tech and a propulsion system with three Volvo Penta IPS pods puts the yacht at the forefront of technology in its category, with the ability to achieve unprecedented levels of efficiency combined with peerless handling and silent running.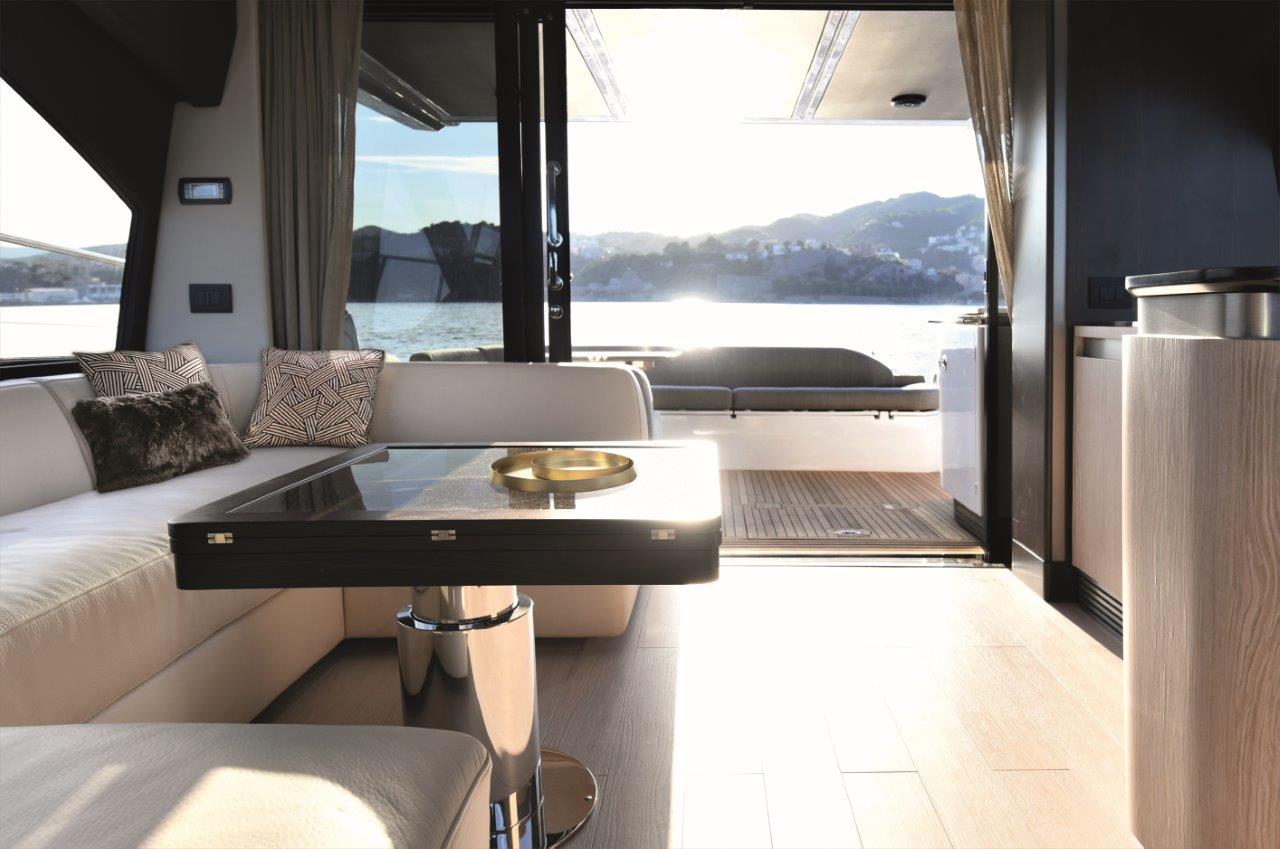 The little sister of the S7, the S6 is a true coupé with sporty DNA that is ready to leave its mark in the history of yacht design evolution. The exteriors designed by Stefano Righini reflect and accentuate the collection's inborn dynamic personality. The bow shield on the trapezoid bow and the glazed surfaces in the hull, distinctive features of the S generation, are even larger and rectangular in shape in this model, while the silhouette of the yacht displays an even more distinctive look by the big diamond-shaped deckhouse windows, which are built on slightly different planes and have diagonal joints.
"Interior style that draws on a modern and discrete sense of elegance and stands out for its freshness and refinement."
Francesco Guida, created the decor and styled the ship using two different wood varieties, light and dark-colored oak, against each other and combines them with wooden tops featuring original patterns and glossy finishes, as well as inserts inside shiny chrome-plated steel frames. The result is a welcoming atmosphere bathed in warm colors accentuated by lighting that combines traditional lights with the use of extra indirect sources gives the spaces an airier feel.
TO LEARN MORE VISIT: AZIMUT YACHTS
Photo Credits: Azimut Yachts
SUBSCRIBE TO OUR MAILING LIST FOR MORE LUXURY TODAY!
 YOU WOULD ALSO ENJOY
---