The transition from winter to spring can be less than graceful. Fluctuating temperatures could traumatize the skin as it's given little time to adapt to the environment. TATCHA is luxury skincare that focuses on the philosophy of less being more, taking notes from the beauty rituals of the Japanese geisha to incorporate into its own nourishing regime.
Each of the products are created to complete a single purpose, meant to be used in concert so that the face is calmly introduced to each benefit. By focusing on the layers rather than the whole at a time, the system works to beautify and preserve the quality of what is already there. Naturally there are different sets available according to skin type, but the One Step Camellia Cleansing Oil and Classic Rice Enzyme Powder are suited for all.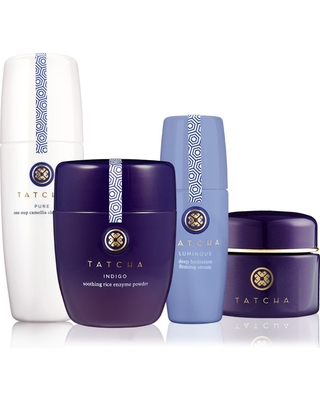 The cleansing oil is meant to be massaged on dry, and changes the tedious task of removing make-up into an indulgent treat. The product is infused with camellia, red algae and green tea. These ingredients are greatly favored in the East Asian beauty industry, as they calm and nourish the skin in dynamic ways, keeping it supple and evening out the tone.
The Classic Rice Enzyme Powder, in contrast to the cleansing oil, requires a wet application. The product is contained in a jar and appears as finely milled white powder. Completely dedicated to polishing the skin, the main ingredient is rice bran, which gently exfoliates the dead skin cells leaving a bright complexion.

TATCHA Founder and CEO, Victoria Tsai, emphasizes the importance of the ingredients used on the skin, and formalized the product line to be simple and efficient.
The theme of simplicity is echoed in other industries this year, such as the return of more classic silhouettes in fashion and adopting a beauty ritual with a meditative edge seems fitting.
To explore more of the Tatcha Ritual visit: TATCHA
Written By: JiYeon Yom
Feature Photo: Left to right: One Step Camellia Cleansing Oil, Classic Rice Enzyme Powder, Deep Brightening Serum, Moisture Rick Silk Cream
Photo Credit: Tatcha
SUBSCRIBE TO OUR MAILING LIST FOR MORE LUXURY TODAY!
YOU WOULD ALSO ENJOY
---