Naples is the heart of the coral jewelry industry and wearing this unique gem makes you a link in the golden chain of Italy's history and future.
The Mediterranean Sea is the great benefactor of Italy's treasures. Within her depths poets have found inspiration, while in the chill of the morning fishermen heave in abundant nets. Children play in her frothy shores, and wars were waged upon her. Italy is cradled in her tides and would not be the country it is today without her.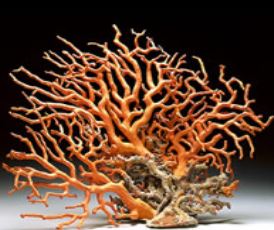 Among the bounty of the sea the sailors of Italy have had the privilege in the past to harvest exquisite corals from the warm waters, and when it came to the fashioning of this gem the lot fell to Naples. In Torre del Greco the craftsmanship of coral is the finest in the world and has been so for hundreds of years. Their reputation in the jewelry industry is undisputed, so much so almost all of the terminology of coral jewelry are Italian words, like carbonetto for the richest reds and the fanciful words of pelle d'angelo meaning angel's skin referring to the sweet delicate shades of pink; even the people of the local area are sometimes known as Corallini.
Coral is a G.I.A. recognized organic gem.
Many people throughout history, from Napoleon to the American President Lincoln, have collected this treasure. It has found its way into designers hearts from the Renaissance, Victorian, and Art Deco periods. Coral has been admired by the Chinese and Persians, as well as the Tibetans who believe red coral to be one of the symbols of the incarnation of Buddha. It is truly a gem of widespread international appeal.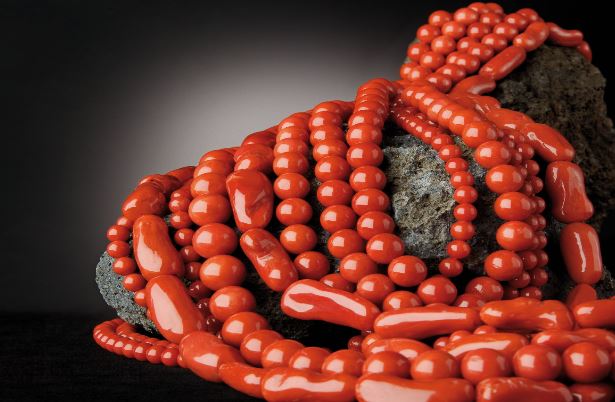 Ancient Romans would string a branch of coral on a necklace for their children to protect them from harm and its magical roots continue today as many still believe coral to be a token of protection against evils, create harmony, relieve tension, and soothe fears.
Today's coral designers are often the descendants of the great Neapolitan craftsmen of yesterday. With the modern aesthetics so loved by Italian designers, and the cherished traditional ways, you can find a coral jewelry piece for every taste. Skillful cameo brooches on a lady's lapel gives a vintage touch, while polished red coral drop earrings make a striking contrast to an all black power suit. Coral necklaces and bracelets in blues and pinks offer a fresh coastal feel to summer dresses. It is in demand more than ever and ecologically mindful dealers have had to search for safe sources to protect and keep this special gift of the sea nurtured as it should be.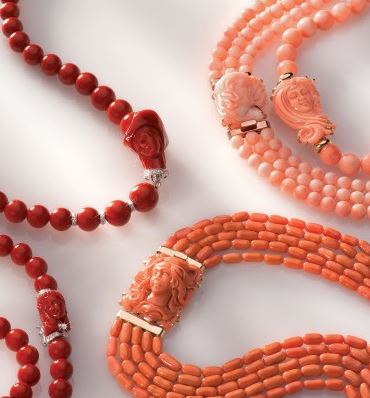 Whether you are lured by its history and craftsmanship, its powers of magic, or its unique beauty, coral is an enchanting gift for yourself or a precious loved one.
To Explore The World Of Coral Visit: Antonino DeSimone
Photo Credit: Antonino De Simone
SUBSCRIBE TO OUR MAILING LIST FOR MORE LUXURY TODAY!
YOU WOULD ALSO ENJOY
---