This season Chocheng presented their Fall/Winter 2019 collection which celebrates fine European tailoring and a chic 1950's line that accentuates the feminine form. We had the opportunity to interview the designer Cho Cho Cheng and explore the inspiration behind the collection.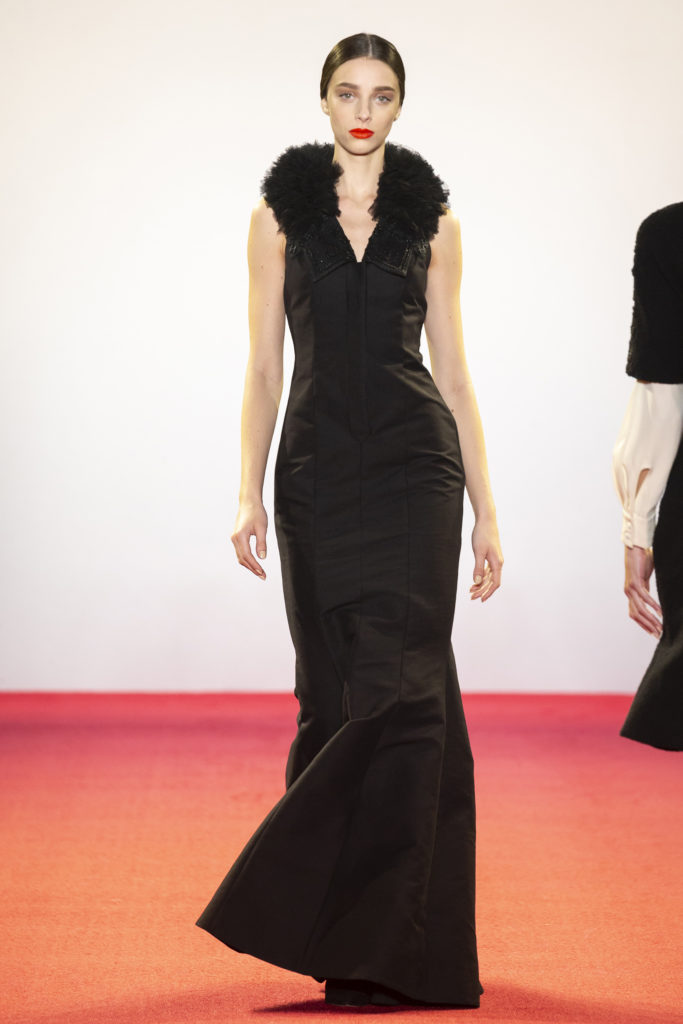 What inspired your latest collection?
This collection is inspired by the 1959 film 'North By Northwest' and Joan Crawford.
The fall/winter show had the feeling of a modern, playful take on the 1940's sophisticated lady. How did you achieve that?
I tried to achieve historical accuracy by using Prince of Wales plaid fabric from heritage mills that have been supplying fabric to Cary Grant's Savile Row tailors, I mixed in some fun and camp element by imagining Joan Crawford replacing Cary Grant as the lead in the film, and then added in my house signatures such as handmade shoulder pads and handmade silk petals.
The fine tailoring methods of Savile Row are a trademark of yours. Why do you think that it is so important to keep the craft a central point in all of your collections?
I believe in conserving craftsmanship because it is an important part of our heritage and social history. High cost prohibits these methods to be mainstream but there is a niche market for handcrafted garments. Handcrafted garments look better, last longer and are more environmentally friendly. There will always be a clientele who appreciates craftsmanship.
Taking an environmental approach to fashion is also an important pillar to your success. What moved you to make the choice of only using sustainable and environmentally friendly fabrics?
I have been using fabrics from old heritage fabric manufacturers ever since I started the CHOCHENG brand, so when I moved my operation and production to London in 2010 to study traditional Savile Row tailoring, they all invited me to visit their mills in the countryside of England, Scotland and Ireland. The beauty of the countryside reconnects me with my childhood fascination of fairy tales and everything natural, beautiful and pleasant. I also became a vegetarian around that time. I am a happier person in general, probably because I am eating more carbohydrates.
Who is the Chocheng woman?
CHOCHENG caters to a discerning clientele who appreciates craftsmanship and cares about the environment.
Who has been the most influential person in your life as a designer?
I owe my career to former first lady, Nancy Reagan. She was my first customer and her endorsement gave me a head start in the industry before I've even graduated from college.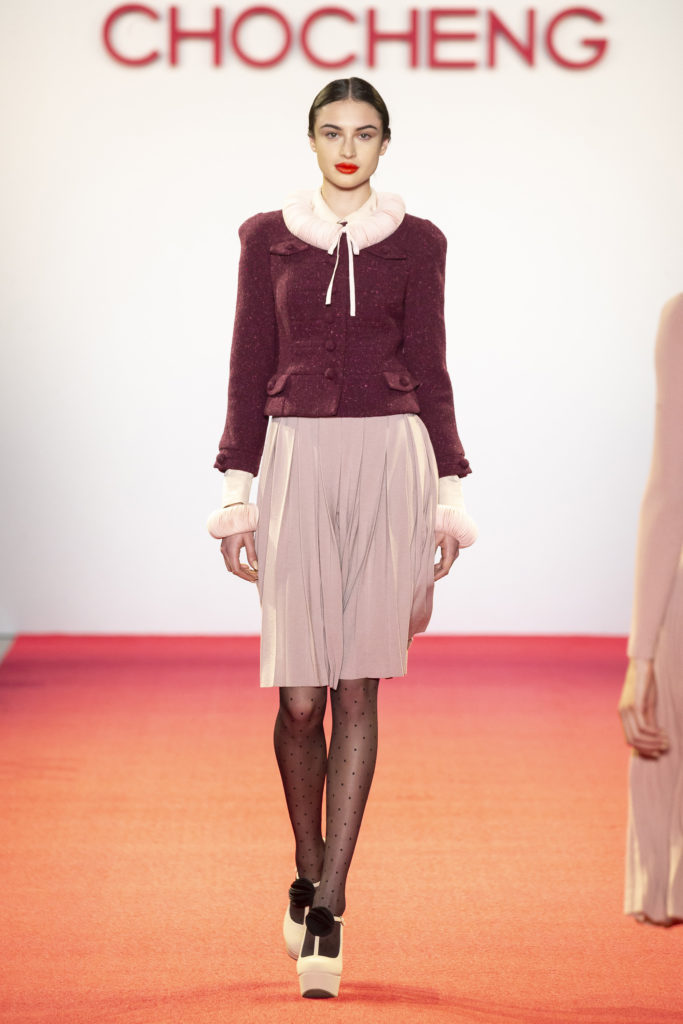 Where do you see the Chocheng brand in the future?
I am in the process of launching a vegan accessories collection and possibly a restaurant. The makeup artist Beau Nelson, who has been collaborating with me on my runway shows, has suggested helping me launch a perfume. It'll be a challenge to use all natural materials because only a limited palette is available in natural form, on top of that, I want to be the nose of my own perfume, so this project will probably take a while but it is worth pursuing.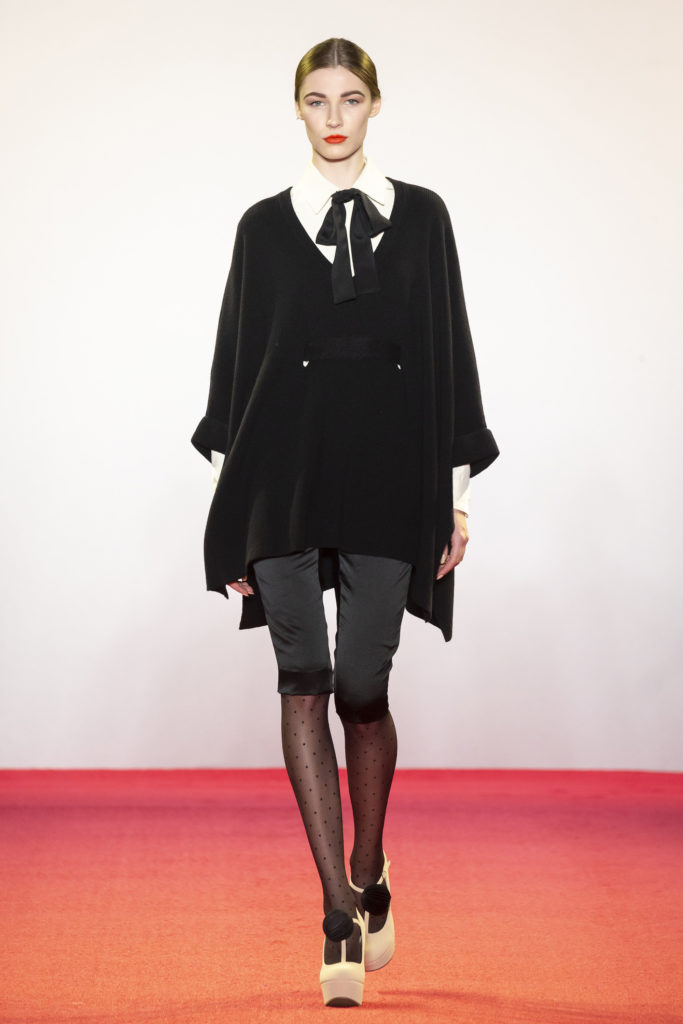 You are opening a new flagship store this spring on 5th Avenue, in NYC. What can fans of Chocheng expect to see at this new venue?
781 5th Avenue is a historical landmark, I love historical accuracy so my first goal is to restore the store front to its original design back in the 1920s, I am currently waiting for approval from the Landmarks Preservation Commission. The flagship CHOCHENG store will offer both ready to wear and bespoke services with garments handmade on site. I am hoping my vegan accessories line will be ready for the store opening so I can offer my loyal customers the head-to-toe service. My goal is to offer every luxurious product that can be made in natural materials, and then eventually relaunch the brand as an all-natural vegan brand.
TO EXPLORE THE FULL COLLECTION VISIT: CHOCHENG
Photo Credits: Dan and Corina Lecca Photo
SUBSCRIBE TO OUR MAILING LIST FOR MORE LUXURY TODAY!
YOU WOULD ALSO ENJOY
---